I fell in love with "snow ice" during my travels in Asia: Malaysian cendol – with coconut milk and palm sugar syrup – was my first shaved ice dessert. Then more recently I tried some Korean bingsu in Bangkok. Finely shaved ice is surprinsingly delicious and particularly refreshing to eat!
One of the ice cream trends of 2016
I heard about Flockys last year, in a video where Galileo presented some of the ice cream trends of 2016. Ever since watching this video, I was curious about the texture of their ice.
Last month I went to Berlin's yearly "Karneval der Kulturen", where visitors can watch the long and entertaining parade of music/dance groups (professionals and amateurs) celebrating Berlin's diversity, or chill in areas with music, before sampling their way through many food stalls/trucks offering specialities from all over the world.
I had barely arrived when I spotted Flockys' truck.
I was tempted to sample their snow ice instantly but I was still feeling full from the ice cream I had had earlier that day at Jones ice cream! 🙂 I returned later and tried the mango snow: the ice was as fine and light as I hoped it would be! We all enjoyed it! Strawberry and chocolate snow ice were also on offer that day.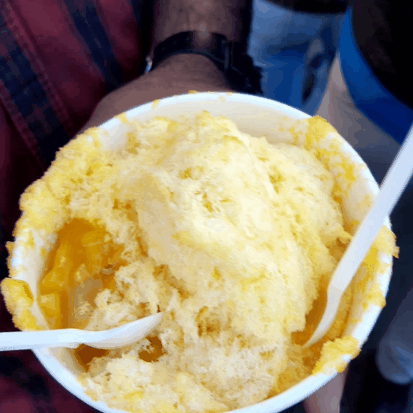 Useful Information
Flockys address: Boxhagener Straße 71, D-10245 Berlin (Note January 2020: according to Google Maps, Flockys is permanently closed)
Website: www.flockys.de
Facebook: www.facebook.com/flockysschneeeis